The second round of qualifying at the Euro Offroad Series, which is taking place at Austria's biggest hobby show Modelbau Wels, saw title contender Hupo Honigl post another TQ run.  The Team C driver ran an almost identical time to his opening qualifier, this time round heading British drivers Lee Martin and Tom Cockerill.  For Honigl's title rivals it was a tough round with Joern Neumann ending up fourth and Naoto Matsukura sixth.  Neumann was on target for a TQ run until he came up to lap Torben Højfeldt and his Durango tangled with the Dane's Team C.  For Matsukura, who again posted the fastest lap, the run contained 'just too many mistakes'.
Honigl was even happier with his Q2 run saying his TM2 V2 was really good.  Having been struggling a little for steering at the end of the straight which for the front motored car is not normally an issue, a change of top deck for Q2 cured the problem.  Modifying the top deck that was on the buggy to give the car more flex believing he had a spare he discovered that he didn't leaving him with that option.  Fortunately a spare of the pre production part was able to be brought to Wels late last night which the Austrian was able to fit to the car for Q2 opting not to risk fitting it for the opening round.  Honigl said he plans now to just run the car as is for Q3 when he could potentially wrap up the overall TQ and take the all important bonus championship point that it carries.
'Start average, end good' was how Martin described his run to the second fastest time.  The Yokomo driver said while he is getting closer with his set-up his car is still not jumping perfectly.  With the piston change after Q1 improving it he said for Q3 he will now try to remove weight from the car to see if that changes the way the car lands to where he wants it to be.  Despite a 'couple of small mistakes' he said overall the run was pretty decent.
Changing to a shorter wheelbase set-up on his Schumacher Tom Cockerill said it was a step in the right direction.  Making the car more nimble it also gave him the more drive out of the corner he was so desperately seeking.  Despite the improvement he said he still needs to find more speed as without Neumann & Matsukura's issues it would again have been a Top 5 run.
Behind Neumann, Japan's Shin Adachi posted the fifth fastest time.  The head of development for Yokomo's electric Offroad programme he is essentially a test bed for set-up changes for both Matsukura and Martin.  Happy with fifth he said a change to softer shock oil made for 'not good' landings so he will try something different for Q3.  Also looking to get rid of some of the car's understeer he will try a lighter diff oil next time out.
2WD Buggy Qualifying Round 2 – Top 10 times
1. Hupo Hoingl – Team C – 15/5:20.846
2. Lee Martin – Yokomo – 14/5:00.435
3. Tom Cockerill – Schumacher – 14/5:03.446
4. Joern Neumann – Durango – 14/5:05.056
5. Shin Adachi – Yokomo – 14/5:07.206
6. Naoto Matsukura – Yokomo – 14/5:10.057
7. Michal Orlowski – Durango – 14/5:10.366
8. Juho Levanen – Associated – 14/5:10.855
9. Joakim Nicolaisen – Associated – 14/5:10.870
10.Martin Bayer – Xray – 14/5:11.478
View complete event results here.
View our event image gallery here.
Saturday, April 26, 2014
Team C's Hupo Honigl TQ'd the opening round of 2WD qualifying at the Euro Offroad Series this morning in Wels, Austria.  The only driver to complete 15-laps over the 5-minute qualifier, the Austria headed both his rivals for the overall EOS Championship title with Naoto Matsukura and defending champion Joern Neumann completing the Top 3.
Pleased to kick off the first of the four qualifiers with a TQ run, his rivals appartently not liking the early start, Honigl said the run was the first time his TM2 V2 'felt really good' on a brand new set of Pro-Line's hand out tyre.  Making changes to his buggy as he looked for more steering at the end of the straight, while it didn't cure that problem it did make the buggy better through other sections of the track.  The winner of the season opener joked he thought he knew what he was doing when he made the change but it cured something totally different and he hopes the next change he makes actually improves his steering at the end of the straight.
Setting the fastest lap of the round with a 20.557, Matsukura said 'car good, me shit'.  Laying down a TQ pace early on the Japanese ace crashed twice at the same spot on the track.  Happy with his B-Max 2's performance he said he will leave it as is for Q2 and instead focus on improving his driving adding that by then he should have woken up.
'Just too many mistakes', that was how Neumann summed up his opening qualifier.  Having topped yesterday's timed practice the German lead away the top heat but crashed on the opening lap allowing Matsukura to the front.  Chasing his first 2WD win of the season, the 5-time race winner said his DEX210 was 'OK' and attributed his poor driving to it being 'maybe too early in the morning'.
'Could be worse' was how Lee Martin described his run to the fourth fastest time with his idler gear starting to go in the final minute of the run.  The Yokomo driver said he 'hate(s) early morning runs' and as a result he didn't drive very well.  Still working on getting his Viper powered B-Max 2 to land better he will now try a piston change in his rear shocks for Q2.
Setting the 5th fastest time Schumacher team leader Tom Cockerill described his qualifier as a steady run but said on checking the times afterwards he was a little frustrated as he was just 1/10th of a third for the round.  The British driver said they are 'being killed' out of the slow corners and for Q2 he will change to a short wheelbase set-up on his Cougar.  Team-mate Carson Wernimont, who is making his European race debut this weekend, would claim 12th for the round just behind Round 3 race winner Martin Bayer.
Behing young Polish talent Michal Orlowski, who completed the Top 6 with his Durango, were the Team Associated's of Juho Levanen and Peter Pinisch.  Running the new B5M for the first time, multiple European Touring Car Champion Levanen said overnight changes to the car had improved it quite a bit over yesterday's practice.  Commenting on the main difference between the new car and the Centro C4.2 he campaigned at the previous EOS encounters he said the B5M 'jumps a lot better which for a touring car driver helps a lot'.  Planning further set-up changes for  Q2 the Finn said he is looking to find a balance between having enough steering but not too much.
2WD Buggy Qualifying Round 1 – Top 10 times
1. Hupo Hoingl – Team C – 15/5:20.523
2. Naoto Matsukura – Yokomo – 14/5:00.051
3. Joern Neumann – Durango – 14/5:05.226
4. Lee Martin – Yokomo – 14/5:05.283
5. Tom Cockerill – Schumacher – 14/5:05.323
6. Michal Orlowski – Durango – 14/5:07.515
7. Juho Levanen – Associated – 14/5:07.551
8. Peter Pinisch – Associated – 14/5:08.565
9. Shin Adachi – Yokomo – 14/5:10.103
10. Oskar Levin – Team C – 14/5:11.308
View complete event results here.
View our event image gallery here.
Saturday, April 26, 2014
Responding to feedback from racers, the finale of Season #3 of the Euro Offroad Series will see a change to the regular schedule with the serious business of qualifying and racing now being seperated by classes with 2WD and 4WD having a full dedicated day each. After timed practice for both 2WD and 4WD yesterday, today is just for 2WD starting off with the first of four rounds of qualifying, a driver's best 2 of 4 to count. With qualifying complete the day will conclude with triple Mains for all racers with the new 2WD Buggy EOS champion set to be crowned in Wels, Austria later this evening.
Saturday, April 26, 2014
Joern Neumann is the top seed for qualifying at the season finale of the Euro Offroad Series in Austria.  The Team Durango driver putting both his buggies top of the timed practice time sheets on the opening day of the Modelbau Wels event.  Unable to better the 3-consecutive laps time he set in the first of the two timed runs, the German will lead away the first round of qualifying from Team Yokomo's Naoto Matsukura who was able to improve his 2WD slightly on his final practice run with team-mate Lee Martin also improving to move up to third ahead of 2WD title contender Hupo Honigl.  In 4WD the second timed practice saw little change at the top with the four unable to better their times, the biggest improvement coming from Yokomo's Shin Adachi would ended the day 5th fastest, the same position he would claim in 2WD.
While not bettering his 3-consecutive lap time, Neumann did improve on his fastest lap time in the final practice getting down to a 20.766 which was 2/10ths faster than the best lap of Matsukura.  Cutting the outside pin of his rear Pro-Line Pin Point tyre in the search for better steering at the centre chicane he said while it fractionally improved his DEX210 he said it might be at the compromise of overall traction when he has to run the tyres for a second time.  With this in mind he said he will not make a decision on where to cut his marked sets of tyres until the morning.  On his 4WD the defending champion said he has 'crazy steering' even after cutting three of the outside pins from his front tyres.  With the 2-inside rows also cut he said he is afraid to cut any more as he needs some pins left.  Instead he will try a heavier oil in his front diff of the DEX410.
Changing springs on his 2WD, Matsukura said it felt better overall but at the cost of traction. Describing his B-Max 2 as feeling a little loose he said he is waiting on 'Shin (Adachi) to decide what is the best change to make for this'. Happy with changes made to his 4WD which made it easier to drive he said with a few more little tweaks it should be good for qualifying.  Martin said his 2WD was 'overall not too bad' and while the buggy was landing the jumps better it was 'still not super'.  The World Championship runner-up said they still have a bit of work to do to get the car competitive for tomorrow's qualifying.  Commenting on his 4WD he said it 'doesn't feel right'.  'Quick one lap' he said the next lap it feels different so he is going to 'give it to Shin to get him to get it to work'.
Putting in a full run this time in 2WD to post the 8th fastest time, Martin Bayer will carry the No.3 on his 4WD in qualifying.  The European Champion said step by step he is improving his XB4.  improving his best lap time by half a second in TP2, he said while the car is 'super easy to drive' he is lacking consistency something he said is down to him lacking rotation on the many 180 degree corners.  On his 2WD he said a lack of steering is the main area he needs to work on as the prototype buggy 'doesn't rotate'.
In a change to the regular race schedule of the Euro Offroad Series, tomorrow will see only 2WD run with the overall champion set to be crowned tomorrow night in Wels.  Sunday will then be an all 4WD affair which will decide if Neumann or Bayer are Champions.
View complete event results here.
View our event image gallery here.
Friday, April 25, 2014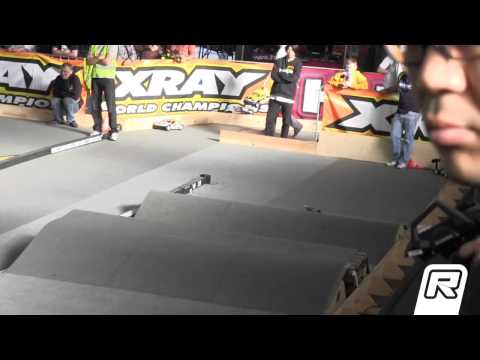 Friday, April 25, 2014
Defending Euro Offroad Series Champion Joern Neumann headed the first timed practice of the season finale in Austria topping both buggy classes from 2WD title protaganist Naoto Matsukura.  Over 3-fastest consecutive laps, the 2WD time sheets saw the three potential Season #3 champions at the top with Neumann fastest by 0.168 with Hupo Honigl just a further 0.060 off in third.  In 4WD Neumann was a more substantial 0.539 faster than Yokomo's Japanese ace with title rival Martin Bayer third, his Round 3 winning Xray just a further 0.007 back in third.
Describing the performance of his DEX210 as 'good', Neumann added the buggy was 'very easy to drive'.  Feeling he could do with more steering in the centre chicane, the German said for the second & final timed practice he will focus on his rear tyres.  Running the championship's handout Pro-Line tyres, he will try removing the outside row of pins from the Pin Point tyre which he said should help the buggy turn in more for that section.  In terms of his 4WD, having struggled at Round 3 in qualifying with diff issues Neumann said this weekend it is 'back to being good again'.  Running a rather large front wing on the Orion powered DEX410, which he said helps give more steering at the end of the straight, he plans no changes for his final run of the day – the fastest time of the two runs determining the seeding for qualifying.
Matsukura who is running new parts on both his Yokomo buggies this weekend, described his 2WD as 'not so bad'.  The Round 2 race winner said his B-Max2 is 'too easy to drive' and for his next run will switch from Associated shock springs to Yokomo's own springs.  Setting the 7th & 8th fastest time himself in 4WD & 2WD, Yokomo's new head of offroad development Shin Adachi explained the parts they have brought along this weekend.  On the 2WD they are running a lighter top gear shaft and engine mount which results in a lower centre of gravity.  They are also running a light weight body shell and Adachi is happy with the results.  In 4WD they have adapted the buggy to run shorty battery packs which he said makes it feel easier to drive.  He said they still have a little too much steering but he thinks they can find a better set-up to cure this.  Matsukura said his 4WD 'felt good' but looking to make it a little easier to drive he will move in the position of his rear shocks on the tower.
Running a fresh set of Pro-Line tyres on his TM2 V2 for the first time today in the opening timed practice, Honigl said considerng this it felt 'OK'.  The Austrian said he needs to find more forward traction out of the slow corners while also looking for more steering at the end of the straight.  Seeking such changes he said he wasnt really sure what set-up changes would be best.  Sixth fastest in 4WD, he said the buggy feels fast driving it around the track but on the timing sheets the speed is not there.  He said when a car feels good to drive its not so easy to single out what set-up changes are going to improve things.
Setting the fourth fastest 2WD time and backing that up with 5th in 4WD, Polish Team Durango talent Michal Orlowski was very happy with his runs after struggling a little with his 2WD in the morning free practice.  Running yesterday's reverse direction open practice and being very happy with his DEX210 which is 300 grams lighter than that of Neumann's, when the track was switched to the anti-clockwise direction he found himself struggling.  Changing to a softer shock oil for the first timed practice, the 12-year-old said this gave him back the feeling he enjoyed yesterday.  Running his 4WD the same he said the direction change had no effect and he will continue with it as is.
Top Qualifier of the season opener, Schumacher's Tom Cockerill posted the 5th fastest time in 2WD while struggling a little in 4WD.  Changing his set-up for the first timed practice, he said it made his Cougar 'push like crazy' but overall the buggy was very consistent and easy to drive.  Having tried a lot of changes every run he said he is confident he knows what the best combination is now and he will switch to that set-up for the final timed practice.  For the Schumacher team, American team driver Carson Wernimont aquitted himself very well posting the 8th fastest time in 4WD while posting the 12th fastest time in 2WD.  The 17-year-old said having never really driven touring cars where running the same line every lap is key and with his 'main thing being 1:8 Offroad' where you run different line every lap it is at a bit of a disadvantage.  Happy with the consistency of his buggies on is 4WD he said he will change the profile of his Reedy motor to try and make it a little faster.
Completing the Top 6 in 2WD was Lee Martin. The Yokomo driver said his Viper powered B-Max 2 is not landing the jumps very well and he needs to make them gradually softer until they feel right.  Also running a used set of tyres in the first time practice on both his buggies they were too far gone contributing to him be a 'little too slow'.  Fourth fastest in 4WD, suffering from a pin coming out of the rear centre drive shaft, the British ace said his buggy was a 'little difficult' and he will change roll bars for his next run.  Having tried Matsukura's set-up but finding it not to his liking he said he is now 'working on (his) own thing'.
Mananging only 3 laps in 2WD before breaking his prototype Xray buggy, in 4WD Bayer said while his 4WD was very consistent it was 'too safe'.  Looking to make it more aggressive, the Round 3 Top Qualifier and winner, will make a diff change on the XB4 for the days closing run.
View our event image gallery here.
Friday, April 25, 2014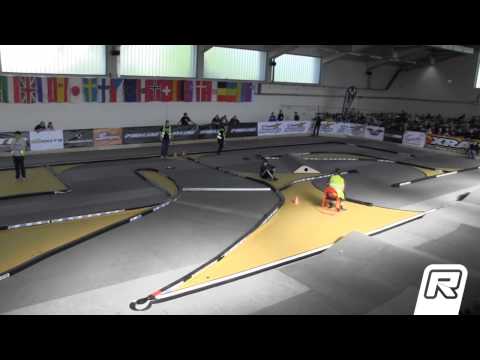 Friday, April 25, 2014
The Euro Offroad Series season finale officially got underway in Wels, Austria, today where there is to be a showdown for the title of both 2WD & 4WD Buggy. The third season of the championship for 1:10 electric Offroad, to date it has only ever crowned one champion, that being Team Durango's Joern Neumann. The back to back champion of both buggy classes, this weekend the German is in contention for a hat trick although in 2WD with no wins this season mean the European Champion is only in with an outside chance against Round 2 winner Naoto Matsukra and Round 1 winner Hupo Honigl. In 4WD Buggy Neumann's only title challenger is European Champion Martin Bayer who at Round 3 of the championship in Slovakia last month ended his unbeaten 9 win run in the class.
Having struggled at the previous round not even making the podium, Neumann said here in Austria was going 'much better'.  Putting part of his weak performance at Round 3 down to his own driving, he said he has done a lot of practice in preparation for this weekend adding he is feeling pretty confident.  With his main focus being on 4WD Buggy, he is very happy with the initial pace of his DEX410.  Running new front universal drive shafts this weekend he likes the 'more free' feeling they give the buggy.  While a 5-time race winner in 2WD Buggy, even if he can pull of his first win of the season this weekend along with the extra bonus point for the TQ, the odds are stacked against Neumann for the overall title.  He can only beat Matusuka on points if the Japanese driver, who missed the season opener, finishes 4th or lower.
Matsukura, who has a revised 2WD for the event, is confident he can get the job done.  Liking the track, although preferring it yesterday when it was available for open practice running in the opposite direction, the always spectacular driver said his focus is not on any points senarios but just going out and going for the win which in turn will give him the title.  In that points game his biggest rival is Team C's Hupo Honigl although the Austrian needs to pull three points off the Yokomo ace meaning with a win & TQ he would still need Matsukura to finish third or lower.
Honigl knows getting his hands on the title is going to be 'pretty difficult' but said he will 'as always' just go out and give his best and see what outcome that brings.  Having been a leading 2WD race contender at all EOS races this year and having been rejuvenated since his switch to Team C, he said of all the track's this season the layout here in Wels doesn't help his 'front motored' TM2 V2  due to the many slow corners, his configuration better suiting high speed corners.   Although not in contention for the 4WD title, he said 4WD Buggy is the better than it has ever been and he hopes he can end the championship with his first podium in the class with Team C.
Having done the double at his Xray team's home event, Bayer said he is 'really confident' about his chances of a repeat win this weekend in 4WD.  Describing the track as 'small but fun', he said he is happy with how his XB4 is working feeling the speed is good.   Without a team-mate this weekend, Renaud Savoya not making the season finale, in 2WD Buggy the Cezch ace said winning might be a little more difficult as they have a new prototype front end on the XB4-2 this weekend.   Having run in yesterday's open practice he said the buggy felt pretty good but added they still have a bit of learning to do with it.
While all the attention will be on the title battles, a number of quick drivers will be looking to make their own marks on proceedings and grab their first wins of the season. While his team-mate goes for the 2WD title, Lee Martin is aiming to sign off his first full EOS campaign with a first win for his new employers Yokomo.  A previous 2WD race winner, taking a win in Belgium in Season #1 for Tamiya, Martin had his best result at the Hudy Arena when he took second behind Bayer in 4WD.
Fellow countryman Tom Cockerill started off the season with a TQ in 2WD Buggy and is hungry for a first win for both him and his Schumacher team.   Top Qualifier in Poland, this weekend is the first time Cockerill has had a team to work with on the EOS.  Schumacher has flown over young US talent Carson Wernimont for the event with fast 12-year-old German talent Micha Widmaier also providing the team with valuable input.  Cockerill said he quite likes the track' and it should make for good racing but having some quick team-mates to work with was a real positive.  His first time to race in Europe, 17-year-old Wernimont is really enjoying the change of scenery.  Traveling to Austria, via the UK where he did some testing on Astro turf, the Pro-Line Cactus Classic finalist said he has had to adapt his driving more to that of a touring car with 'keeping the momentum up' very important.  A lot different to racing on dirt he said he prefers the carpet of the EOS to the Astro Turf he tried but which gave him a quick lesson in how not to drive in Europe.
View our event image gallery here.
Friday, April 25, 2014